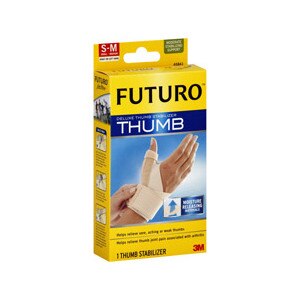 Futuro Deluxe Thumb Stabilizer Small-Medium
Right or Left Hand. Moisture releasing materials. Helps relieve sore, aching or weak thumbs. Helps relieve thumb joint pain associated with arthritis. Nascar officially licensed. Our expert panel of engineers and medical professionals brings innovative technology to every product we make. Live more. Helps stabilize the lower thumb joints. Allows free movement of remaining fingers. Patented design adjusts for ideal fit. Easy to put on and take off. Velcro brand fasteners for custom fit. Two stays for stability. Soft, breathable, durable latex free materials. Adjustable wrist strap for added support. Small/medium: around thumb: 2-2.5 inches; around wrist: 5-7.5 inches. CE listed. Made in USA with globally sourced materials.
Fiber Content: Nylon, Polyester, Urethane Foam, Spandex.
How to Wear: 1. Open all Velcro brand fasteners and slide thumb into thumb hole. Wrap stabilizer around hand and secure fastener at the base of the wrist. 2. Wrap longs trap around wrist and secure. Adjust both closures until fit feels firm, yet comfortable. 3. Wrap and secure thumb strap around thumb for better fit, or along base of thumb for added stability. The metal stays can be adjusted to accommodate recommended positioning, or removed completely for moderate support. Size: For right or left hand, measure around the thumb knuckle and then the wrist. Small/Medium: around thumb: 2-2.5 inches; around wrist: 5-7.5 inches. When to use: This Futuro Deluxe Thumb Stabilizer provides comfortable protection and firm support for weak, aching or sore thumbs. It is also ideal for those experiencing arthritic symptoms or degenerative joint disease of the thumb. Wear all day or during activities which lead to discomfort. Washing: To wash, remove both stabilizers through slits at the base of the support, and secure all fasteners. Hand wash with mild soap in warm (not hot) water. Rinse well and air dry. Do Not: machine wash, tumble dry, dry clean, or use bleach or fabric softeners.
If discomfort or pain results, persists or increase, discontinue use and consult a physician.