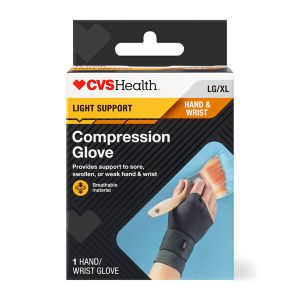 Futuro Energizing Support Hand Glove, L/XL
Massaging effect. Helps relieve mild hand or wrist discomfort. Reversible for right or left hand. Provides soothing warmth, support and flexibility. Wrap around strap for adjustable support. Breathable, latex free material for comfort. When to Use: This Futuro Energizing Support Glove helps provide mild therapeutic support to aching, swelling or weak hands and wrists. Wear all day or during activities which lead to discomfort. Idea for: typing or keyboard use, crafts or needlework, arthritis symptoms, and repetitive tasks. Our expert panel of engineers and medical professionals brings innovative technology to every product we make. CE listed. Made in USA with globally sourced materials.
Fiber Content: Nylon, Spandex, Polyester.
Size: For men or women, measure around palm of hand, above thumb. Small: 6.5-7.5 inches. Washing: Close strap prior to washing. Hand wash with mild soap in warm (not hot) water. Rinse well and air dry. Do not: machine wash, tumble dry, dry clean, or use bleach or fabric softeners. How to Wear: 1. Open strap and slide hand into glove. The thumb and index finger each slide into their own finger hole. 2. Wrap strap around wrist and secure fastener. Adjust until fit is firm yet comfortable.
If discomfort or pain results, persists or increases, discontinue use and consult a physician.