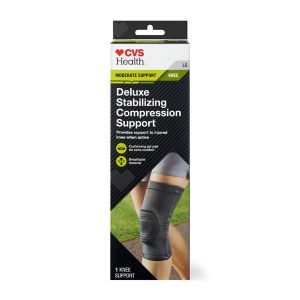 Futuro Infinity Acitve Knit Knee Stabilizer Large
Targeted compression. High-performance support. Breathable, 4-way stretch knit. Live more. 4-way stretch knit creates custom fit that will not slip. Low-profile, sleek design with stabilizing support for all of your activities. Breathable, soft materials for all-day comfortable wear. Targeted compression with healing warmth. Extra length for improved fit and added comfort. Strong side stabilizers provide added support and keep support in place with silicone beads. Patella gel ring provides cushioning comfort and targeted compression. Size Large: calf range: 16-18 inches, thigh range: 18.5-20.5 inches. When to use: this Futuro Active Knit Knee Stabilizer has been engineered by the Futuro medical advisory panel and product development team specifically to provide support to weak and sore muscles above and below the knee, help reduce swelling and provide stability. Wear all day or during activities which lead to discomfort. Our expert panel of engineers and medical professionals brings innovative technology to every product we make. CE listed. Made in China.
Fiber Content: Polyester, Nylon, Silicone, Cotton, Rubber, Spandex.
How to Wear: Slide over foot. Pull support up onto knee. Center gel pad over kneecap. Size: For right or left knee, measure 4 inches or 10 cm from center or knee cap half calf and up thigh. Size Large: calf range: 16-18 inches, thigh range: 18.5-20.5 inches. Washing: Hand wash with mild soap in warm (not hot) water. Rinse well and air dry. Do Not: machine wash, tumble dry, dry clean, or use bleach or fabric softeners.
This product contains natural rubber latex, which may cause allergic reactions. If discomfort or pain results, persists or increases, discontinue use and consult a physician.