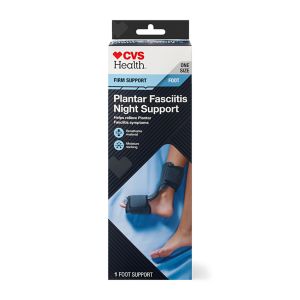 Futuro Plantar Fasciitis Sleep Support for Night Use Foot Support
Adjust to fit: 8.0-15 in. Relieves plantar fasciitis symptoms. Comfortable, low profile support for a good night's sleep. Helps to relieve morning foot/heel pain. Firm stabilizing support. Helps to relieve morning foot/heel pain associated with plantar fasciitis. Low profile support made with breathable, lightweight materials. Fits right or left foot. Comfortably holds foot at recommended therapeutic angle throughout the night. Patented, flexible edges for comfortable, customized fit. Breathable, moisture-releasing straps are durable and soft. Durable cushion for all-night comfort. Size: designed for use on either the right or left foot. The adjustable fasteners create a customized fit for most body types. Measure the circumference approximately 2 inches above the ankle bone. Package is recyclable. www.futuro.com. Made in China for 3M.
Fiber Content: Polypropylene, Polyurethane Foam, Polycentric Nylon, TPE, Spandex.
When To Use: The Futuro Night Plantar Fasciitis Sleep Support can be used on the right or left foot, with or without a sock. Comfortably holds the foot in the recommended therapeutic position all night long for those suffering from plantar fasciitis. For best performance, apply support as described on back of insert.
Contraindications: Futuro Night Plantar Fasciitis Sleep Support is not recommended for individuals with diabetes, neuropathy, or vascular disease. Product not intended for load bearing. Please consult your physician before using. If discomfort or pain results, persists or increases, discontinue use and consult a physician.