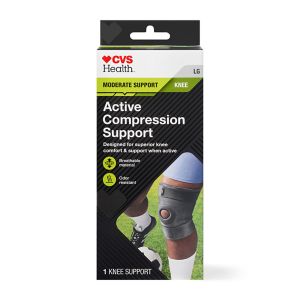 Futuro Sport Moisture Control Knee Support Large
Moisture releasing technology. Power stretch-RX. High-performance design for active support. Dual precision straps for custom fit. Live more. Designed to help prevent re-injury. Keeps knee joint warm and limber. Antimicrobial treatment inhibits growth or odor-causing bacteria on the support. Fits right or left knee. Contoured design with dual precision straps for anatomical fit. Antimicrobial treatment inhibits growth of odor-causing bacteria on the support. Breathable, moisture-wicking Polartec Power Stretch-RX material in back panel for comfort. Open patella design for support and comfort of the kneecap. Strong, durable materials help provide stability. Large: 17.0-19.0 inches. When to Use: The Futuro Sport Moisture Control Support provides support to stiff, weak ,or injured knees. A unique combination of neoprene and Polartec Power Stretch-RX materials keep the knee warm and limber while releasing excess heat and moisture. The contoured design and dual precision straps will help keep the support in place during sports on other vigorous activities. Our expert panel of engineers and medical professionals brings innovative technology to every product we make. CE listed. Made in Taiwan for 3M.
Fiber Content: Neoprene Blend, Polyester, Nylon, Spandex.
How to Wear: 1. Open all closures and slide support over foot starting with the wider end. Position patella ring over kneecap. 2. Secure top strap along top edge of support. 3. Secure bottom strap along bottom edge of support. Tighten both straps until fit is snug, yet comfortable. Size: For left or right knee, measure around kneecap while in a standing position. Large: 17.0-19.0 inches. Washing: Close fasteners before washing. Hand wash with mild soap in warm (not hot) water. Rinse well and air dry. Do not: machine wash, tumble dry, dry clean, or use bleach or fabric softeners.
If discomfort or pain persists or increases, discontinue use and consult a physician. Some individuals may be sensitive to neoprene or neoprene-blend rubber. If a rash develops, discontinue use and consult a physician.