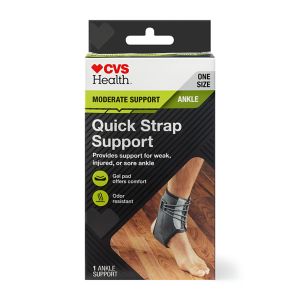 Futuro Sport Quick Strap Ankle Support
Quick strap ankle support. Contoured gel pad. Helps provide moderate support for weak or injured ankles. Quick lacing & strap system provides custom fit. Anti-microbial treatment inhibits growth of odor-causing bacteria on the support. Contoured to fit comfortably in shoe. Neoprene-blend material for support, soothing warmth, and comfort. Lined with cotton terry for moisture absorption and comfort. Easy-to-use lacing and strap system provides custom fit. Gel cushion positioned around ankle bone for added comfort and support. Adjustable strap under heel area for additional comfort. When to Use: This Futuro Quick Strap Ankle Support can be used on either the right or left ankle to help provide comfortable, moderate support and compression for weak or injured ankles. Our expert panel of engineers and medical professionals brings innovative technology to every product we make. CE listed. Made in China for 3M.
This item is FSA (Flexible Spending Account) eligible.
Fiber Content: Neoprene Blend, Nylon, Cotton, PVC, Polypropylene, TPE.
Size: For right or left ankle, this ankle support has been designed to provide a customized fit. Measure around ankle. Adjust to Fit: 7.5-11 inches. How to Wear: 1. Hold support in hand so the Futuro tag is facing you. Unfasten the strap on the right side of the support and loosen lacing. Slip foot into support. 2. Pull small strap around right side of ankle to tighten as needed. 3. Adjust large tab on left side of ankle for desired compression. Adjust strap under heel for proper fit. Re-adjust straps and tab as needed. Washing: Close all straps prior to washing. Hand wash with mild soap in warm (not hot) water. Rinse well and air dry . Do not: machine wash, tumble dry, dry clean, or use bleach or fabric softeners.
If discomfort or pain results, persists or increases, discontinue use and consult a physician. Some individuals may be sensitive to neoprene or neoprene-blend rubber. If a rash develops, discontinue use and consult a physician.