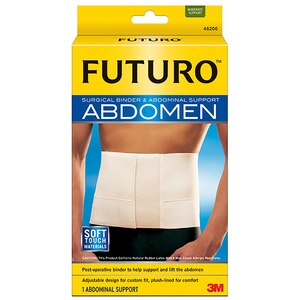 Futuro Surgical Binder And Abdominal Support Large
Soft touch materials. Post-operative binder to help support and lift the abdomen. Adjustable design for custom fit, plush-lined for comfort. Live more. Helps return internal organs to natural position. Lifts and trims a heavy abdomen. Designed to aid easier breathing. Fits discreetly under most clothing. Controlled tension material provide reliable support. Soft, pliable front panel adjusts to body contour for comfort. Velcro brand fastener for customized fit. Large: 42.0-52.0 in. (106.7-132.1 cm). When to Use: This quality Futuro Surgical Binder & Abdominal Support may be worn to support a sagging abdomen. Its use may also be recommended post-operatively by a doctor. It is designed to be effective without the stiffness of a corset. Our expert panel of engineers and medical professionals brings innovative technology to every product we make. Packaging is recyclable. CE listed. Made in USA with globally sourced material.
Fiber Content: Polyester, Rubber, Nylon.
1. Open binder and lay it on a bed, plush lining facing up and Futuro label at top on opposite side. Lie down and position binder under your back. Grasp wide pad and stretch it over abdomen or over the surgical dressing. 2. Exhale completely and with your right hand, pull the right side of the binder over the pad and attach the fastener. Fit should be snug, yet comfortable. Straighten binder as necessary to remove wrinkles. Size: Measure around hips just below waistline and over fullest part of abdomen. Washing: Close fasteners prior to washing. Hand wash with mild soap in warm (not hot) water. Rinse well and air dry. Do Not: machine wash, tumble dry, dry clean, or use bleach or fabric softeners.
This product contains natural latex which may cause allergic reactions. If discomfort or pain results, persists or increase, discontinue use and consult a physician.