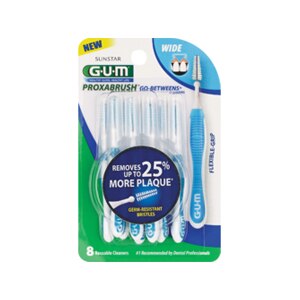 G-U-M Go-Betweens Proxabrush Cleaners Wide
Antibacterial bristle protection (Bristles incorporate a patented antibacterial agent for continuous bristle protection during the recommended life of the brush. Bacterial growth that may affect the bristles is inhibited. The agent in the bristles does not protect against disease. As always, patients should rinse their brushes). Healthy gums. Healthy life. Removes plaque between teeth. Recommended by dental professionals. Number 1 dentist recommended brand (Data on file) removes plaque and cleans between braces, bridges and wider tooth spaces. Antibacterial bristles keep the brush cleaner between uses. Use anywhere, even on-the-go. Nylon-coated wire. Made in USA.
Easy to Use: 1. Use gentle in and out motions to remove plaque and food particles. Neck bends to reach back teeth. Never force brush into tight spaces. Do not bend or twist wire during use. 2. Rinse brush after each use. Replace weekly.