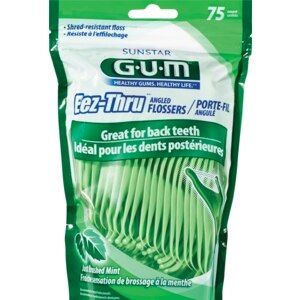 G-U-M X-Treme Fresh Flossers Just Brushed Mint
Great for back teeth. Healthy gums. Healthy life. Recommended by dental professionals. Effectively removes plaque between the teeth. Angled flosser design effectively reaches back teeth. Floss engineered not to shred, break or sag. Comfort grip handle allows for comfort and control while flossing. Pick dislodges food debris. Made in China.
1. Place flosser between teeth. 2. Gently push down, sliding floss up and down against the tooth to clean above and below the gumline. 3. Repeat this process on each tooth.