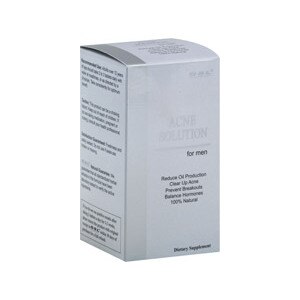 GSL Technology Acne Solution for Men
Dietary Supplement. Reduce oil production. Clear up acne. Prevent breakouts. Balance hormones. 100% natural. Loquat Leaf: Loquat is a type of fruit tree that grows in the tropics and subtropic. It contains malic acid, tartaric acid, citric acid, tannate, carotene, vitamins A, B and C. Licorice: It is a flavorable herb that has been used in food and medicinal remedies for thousands of years. This herb has long been value as a demulcent (soothing, coating agent) and expectorant (rids phlegm and mucous from the respiratory tract). Salvia Root: The root itself is a hardy perennial that is part of the mint family. The salvia root is the portion that is set aside as one of the most potent medicinal herbs. GSL Technology Natural Guarantee: We guarantee that all standardized herbal extracts in this formula have been laboratory tested to verify the active ingredients. (The statements presented on this package have not been evaluated by the Food and Drug Administration. This product is not intended to diagnose, treat, cure or prevent any disease.) Product of USA.
Nutrition Facts
Serving Size: 1 tablet
Servings Per Container: 60
Variation:
| Nutrient | Amount per Serving | % Daily Value |
| --- | --- | --- |
| Salvia Extract | 600 mg | |
| Loquat Leaf Extract | 300 mg | |
| Licorice Extract | 200 mg | |
| MultiVitamin | 250 mg | |
Adults over 12 years of age should take 2 to 3 tablets daily with water at mealtimes, or as directed by a physician. Take consistently for optimum benefit.
This product can be a choking hazard. Keep out of reach of children. If you are taking medication, pregnant or nursing, consult your health professional. Satisfaction Guaranteed: Freshness and safety sealed. Do not use if seals are broken or missing.