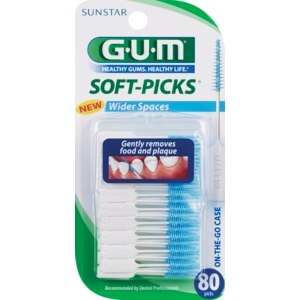 GUM Soft-Picks with Wider Spaces
SUN STAR

NEW

HEALTHY GUMS. HEALTHY LIFE.®

Gently removes food and plaque

Recommended by Dental Professionals

ON-THE-GO CASE

Between Teeth Cleaners

76 soft, flexible bristles slide between teeth to help remove food and plaque
Recommended by dentists and hygienists

Comfortable rubber bristles massage and stimulate gums

Convenient case makes it easy to use on-the-go

Safe for orthodontics, implants, bridges or crowns.
Look for the distinctively shaped Soft-Picks® handle. This is Sunstar's trademark and your assurance of brand quality.
Not made with natural rubber latex

GUMbrand.com


Manufactured for
©
Sunstar Americas, Inc.

Chicago, IL 60630 U.S.A.,
Made in Germany
Product Type:

Dental Picks

Quantity:

71-80 CT
Easy to Use:
Use gentle in and out motion to clean between teeth and massage gums. Do not force into tight spaces between teeth.