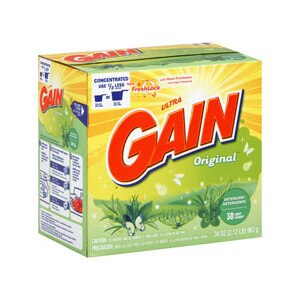 30 loads (This package contains 30 loads (as measured to line 1 on scoop) The precise number of loads from each package will vary slightly with the method of scooping and settling during shipment). Concentrated - use 1/3 less. FreshLock with more freshness. 2 weeks of fantastic freshness in one small scoop! Concentrated formula, so you use less to get the amazing freshness of Gain in every load! Safe for septic tanks. Contains no phosphate.
Ingredients Include Biodegradable Surfactants and Enzymes.
Follow garment care label instructions. 1. Start washer and grab your Gain. 2. Add your favorite scent-sational Gain detergent. Line 3: 1-1/2 cup for heavily soiled loads. Line 2-1/3 cup for large loads, heavily soiled medium loads. Line 1: 1-1/4 cup for medium loads. 3. Add clothes, incredible freshness is just that easy! To Test for Colorfastness: Dissolve 2 tablespoons (30 ml) of Gain in 1 cup (250 ml) hot water. Soak 20 minutes. Rinse and dry. If a color change is detected, wash garment separately in cold water.
Eye irritant. May be harmful if swallowed. In case of eye contact, flush with water. If swallowed, give a glassful of water or milk. Call a physician. Keep out of reach of children.