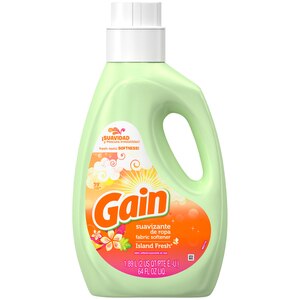 Gain Fabric Softener Island Fresh
Biodegradable Fabric Softening Agents (Cationic).
Use Cap to Measure: Fill to solid line for medium loads. Add to the machine dispenser or final rinse. Do not dilute with water and store. Do not refill bottle with other liquids or beverages.
Do not use this product on children's sleepwear or other garments labeled as flame resistant as it may reduce flame resistance.