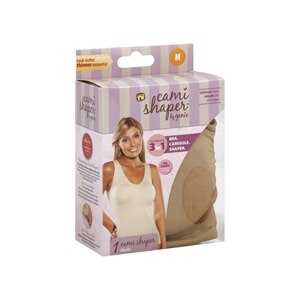 By Genie. As seen on TV. Ultimate 3 in 1. Bra. Camisole. Shaper. Pads included for extra lift & coverage. Eliminate layers. Smooth rolls and bulges. Look inches thinner instantly! Ultimate 3 in 1 Garment: It's a camisole, a bra, and a shaper all in one! One-piece seamless construction gives you slimming support and comfortable compression. Built-in Genie Bra custom conforms to your shape and helps minimize back fat and spillage. Lightweight, removable pads for ultimate coverage, lift and separation. Flared comfort band hugs your hips to control your love handles. Camisole: Wear it alone or wear it under a garment. Built-In Genie Bra: Give you just the life you want. Shaper: The perfect tummy tamer. Recommended Size Chart (Match you size with measurements in this guide. These sizes are specific to the Cami Shaper design): Medium: 8, 10 shirt size. As seen in Allure woman's world magazines. Feel the difference. Follow us on Facebook, Twitter and YouTube. Made in China.
Nylon (96%), Spandex (4%).
Cleaning Your CamiShaper: The Cami Shaper is machine-washable and dryer safe. To prolong the life of your Cami Shaper, we recommend the following: Machine wash cold, delicate cycle with like colors. Tumble dry low. Do not iron. Do not bleach. Do not machine wash pads. How to Insert Pads: 1. Turn the Cami Shaper inside out. 2. With the inner part of life cup facing you, fold it in half. 3. Insert the cup into the slit on the side of the cup section. 4. Once inserted, flatten the cup so that it fits comfortably. How to Remove Pads: 1. Turn the Cami Shaper inside out. 2. With two fingers, remove the cup through the slit on the side of the cup section of the Cami Shaper.