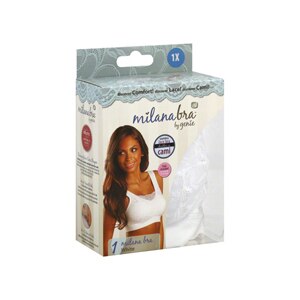 Genie Milana Bra 1X White
By Genie. As seen on TV. Seamless lace bra. Doubles as cami. Pads included for extra lift & coverage. Discover comfort! Discover lace! Discover cami! Everlast comfort stretch fabric. No underwires, hooks or adjusting straps. Easy to slip in, form-fitting seamless construction. Knitted wide support band eliminates the need for underwires. Custom conforms to your shape. Magic pouch to slip in modesty pads for extra lift and coverage. Made with the finest craftsmanship on the Santoni machine. Special Sempre Forma stitching. Machine-washable. Elegant hand-sewn lace bra doubles as cami. Recommended Size Chart: Large: 45-46.5 bust size; 18W, 20 shirt size; 38QD, 40DD, 40 DDD, 42C, 42D, 44A, 44B bra/cup size. As seen in Allure woman's world magazines. Feel the difference. Follow us on Facebook, Twitter and YouTube. Made in China.
Nylon (96%), Spandex (4%).
Cleaning Your CamiShaper: The Milana Bra is machine-washable and dryer safe. To prolong the life of your bra, we recommend the following: Machine wash cold, delicate cycle with like colors. Tumble dry low. Do not iron. Do not bleach. Do not machine wash pads. How to Insert Pads: 1. Turn the Milana Bra inside out. 2. With the inner part of life cup facing you, fold it in half. 3. Insert the cup into the slit on the side of the cup section. 4. Once inserted, flatten the cup so that it fits comfortably. How to Remove Pads: 1. Turn the Milana Bra inside out. 2. With two fingers, remove the cup through the slit on the side of cup section of the bra.