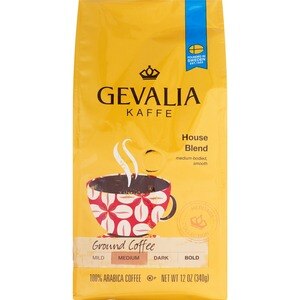 Gevalia Kaffe House Blend Ground Coffee Medium/Dark
Founded in Sweden. Est. 1853. Robust, incredibly smooth. An exceptional smooth, never bitter coffee. In 1853, an incredible journey started in the small port town of Gavle, Sweden. That's when our founder, a true coffee lover, began an unwavering pursuit of coffee perfection. For over 150 years, Gevalia has built on that passion. True to its original European handcrafted tradition, Gevalia delivers a smooth, rich never bitter taste cup after cup. A coffee that tastes so good, it is served at the Royal Court o Sweden. With Gevalia, our passion for coffee is yours to discover. House Blend: Robust yet incredibly smooth. This Swedish inspired roast has a captivating aroma.
Open: Unfold the closure tabs, unroll the top and pull the bag apart. Close: Squeeze out the air, roll down the bag and fold the closure tabs. Store: Keep the unused coffee in a cool, dry place. Want the perfect cup? To brew a delicious Gevalia cup at home, we recommend 1 slightly rounded tablespoon of ground coffee for each 6 fl oz cup of cold, filtered water. Adjust the recipe to suit your taste.