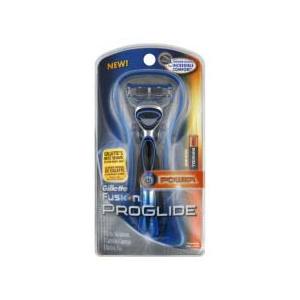 Gillette Fusion ProGlide Power Razor
Gillette®Fusion®ProGlideTMPower Razor

The New Gillette Fusion ProGlideTM, re-engineered with thinner, finer blades for less tug and pull* and an effortless glide. You'll get Gillette's most comfortable shave ever.**

Enhanced Fusion Power features include:
Re-engineered Low Cutting Force blades with thinner , finer edges*
Innovative microcomb to help guide hair to the blades (exclusively on ProGlide Power)
Fusion's most advanced low-resistance blade coating
Improved blade suspension system
25% larger LubrastripTM
Streamlined Comfort Guard
Improved Precision Trimmer
Re-designed handle with power button that lights up and blinks when battery is low
Incredible comfort, even if you shave every day. You've got to feel it to believe it.
* leading blades vs. Fusion
**in manual and power, respectively