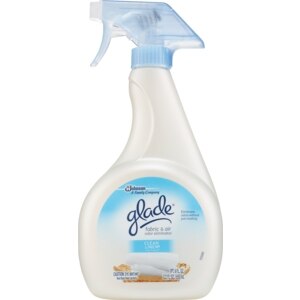 Glade Fabric & Air Clean Linen Odor Eliminator
SC Johnson - a family company. Eliminates odors without just masking. Proven to eliminate odors on soft surfaces and in the air without just masking. For carpets. For fabric. For the air. Facts You Can Feel Good About: Product not formulated with phthalates. A family company since 1886. - Fisk Johnson. Visit us at www.glade.com.
Water, Solubilizer, Odor Eliminator, Fragrance, Emulsifier.
Rotate nozzle to On position. Spray Glade Fabric & Air onto fabric until slightly damp. Allow to air dry. Spray the air above fabrics and carpets and around the room for a noticeably fresh home.
Eye irritant. Important: Do not treat clothing while wearing. Product has been tested and will not harm virtually all colorfast fabrics. If unsure, test product on an inconspicuous area prior to use. Do not use on leather, suede, or silk. Avoid overspray on hard surface flooring. Keep children and pets off treated areas until dry. Do not spray on pets. Do not spray around birds. Do not use in small confined pet areas without adequate ventilation. Eye irritant. Contains alcohol. Avoid contact with eyes. First Aid: Eyes - Immediately rinse eyes with plenty of water for at least 15 minutes. If irritation persists, get medical attention. Keep out of reach of children and pets. Avoid inhalation of spray mist. Sensitive individuals should use in small area before treating large rooms or whole house.