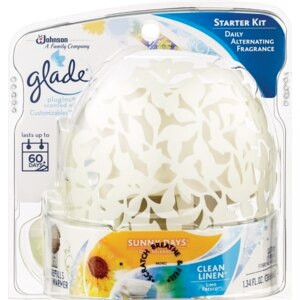 Glade Fan-Powered Alternating Clean Linen and Sunny Days Fragrances
Contains 1 warmer and 2 refills [1.34 fl oz (39.6 ml)]. SC Johnson - a family company. Glade PlugIns Scented Oil Lasting Impressions II Warmer. Brighten the mood with your favorite fragrances! Glade Lasting Impressions II Warmer activates two unique scents so your larger rooms are always fresh. The adjustable dial lets you change the level of fragrance to suit your mood. Continuously alternates between two complementary fragrances for your enjoyment. The warmer's circulating fan spread fragrance throughout your home. Perfect for larger rooms of the home. All PlugIns Scented Oil refills work with Lasting Impressions II Warmer, so you're free to create your own favorite combo! Environmental Facts: Paperboard is recyclable; Plastic container contains 30% PCR. A family company since 1886. - Fisk Johnson. C/UL/US listed. Learn more at: www.scjohnson.com. Visit us at www.glade.com. Warmer made in China.
Use only Glade PlugIns Scented Oil refills in Glade PlugIns Scented Oil air fresheners. Installation: Rotate warmer's electrical plug, if needed. Unscrew cap from fragrance bottles and insert into warmer. Insert warmer upright into outlet. To remove refill from Glade warmers, pull warmer front plastic away from bottle to release. Operation: Read the important safety instructions. Match wide blade of plug to wide slot, fully insert. Rotate plug if necessary. Adjust warmer intensity to desired setting. (Low-Medium-High). Moving/Storage: If warmer is removed from outlet, separate bottle from unit and store in upright position. Do not place fragrance oil bottle or cap on painted, finished or plastic surfaces. User Maintenance: Fragrance oils may collect on warmer unit over time. To clean, remove warmer unit from electrical outlet and wipe with dry cloth. Wash hands after handling.
Eye irritant. Contains fragrance oils. Avoid contact with eyes. First Aid: Eyes - Immediately rinse eyes with plenty of water for at least 15 minutes. If irritation persists, get medical attention. If Swallowed - Do not induce vomiting. Call a physician or poison control center immediately. Keep out of reach of children and pets. Do not use in small, confined pet areas without adequate ventilation. Always keep unit/bottle in an upright position. Fragrance oil may leak if bottle is placed on side or upside down and damage outlet or surfaces.