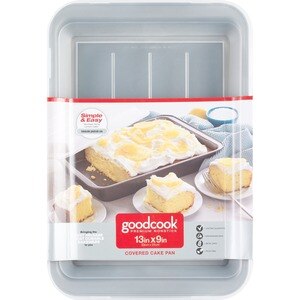 Good Cook Covered Cake Pan 13 x 9 Inch
Non-stick coating. Thank you for choosing our Good Cook baking pan. Good Cook products are tested in kitchens like yours because we understand the quality of bakeware you use is just as important as the quality of your ingredients. And we think you'll love the results you get from baking with our durable, premium non-stick bakeware. Made in China.
First Use: Remove sticker from the bottom of your new pan; wash the pan in warm soapy water. Tips for Better Baking Results: Follow recipe instructions for greasing and flouring so that your baked goods rise properly. Vegetable cooking sprays will give your baked goods added release. You may notice slight discoloration from the spray; this won't hurt your pan's performance. Check for doneness at the shortest baking time to avoid overcooking. Care and Cleanup: Use only nylon, wooden or rubber utensils. Metal tools or knives can easily damage the pan's surface. Steel wool or other abrasive scrubbers may scratch the surface. Always towel dry your Good Cook pan after washing. Do not use your Premium bakeware on a cooking range.