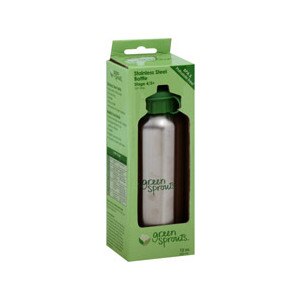 Green Sprouts Stainless Steel Bottle Stage 4/5, 12+ Months
BPA & phthalate free! Stainless steel bottle: High quality stainless steel; non-leaching; durable; pull-up nozzle; non-porous and germ repellent. Bottle Stage 4; Age: 12-24 mo.; What Happens: may still be nursing, learning to drink with straw and spout; Bottles Needed: feeding bottles, sippy cups, trainer bottle with handles, stainless steel bottle w/ spout, sports bottle. Bottle Stage 5; Age: 2 yr+; What Happens: drinks with straw, spout, cup independently; Bottles Needed: stainless steel bottle w/ spout, sports bottle, regular cup. At Green Sprouts we know you want the best for your baby. That's why we make baby-friendly products for your little one. All of our products conform to US health and safety standards. Green Sprouts eco-friendly. Baby-friendly. Our company was founded in 1982 based on values that prioritize protecting our earth and our children. Since babies develop by exploring through their senses and putting everything in their mouths, we make sure all our products are safe and conform to US health and safety standards. As a company that has been at the forefront of children's health and safety issues, we're continually researching ways to make safer baby products. In 2003 we discovered the dangers of phthalates, which are used to soften rigid plastics such as PVC for use in many baby items. In 2006 we learned of concerns about BPA (bisphenol-A), which is used in hard, clear plastics like polycarbonate baby bottles to prevent breakage. Phthalates and BPA have been shown to disrupt reproductive functions and cause other developmental problems. All Green Sprouts products have been phthalate free since 2003 and BPA free since 2006. Made in China.
Pop open cover, pull nozzle up to open and it's ready to drink from. Care: Before first use, wash bottle, seal and drinking cap thoroughly by hand in hot, soapy water. Remove cap and wash both cap and bottle thoroughly after each use. Allow to dry completely before reassembling. Remove drinking cap when not in use. Do not clean with steel wool, stiff brush or other abrasive material as these may damage coating on interior of bottle. Not recommended for dishwasher use.
Do not use for long term storage. Contents should be consumed within a short period of time. Fill bottle to nor more than 1.25 in/3 cm below rim. Alcoholic, fermenting and nutrient-liquids can cause excessive pressure build-up. Do not use for non-drinkable substances. Do not microwave (risk of explosion). Not suitable for cooking or deep freezing. For children, always use drinking cap. Always check that cap is firmly in place. To avoid injury, do not let baby walk or run with bottle. Do not put baby to bed with bottle. Prolonged contact with liquids may cause severe tooth decay. Conforms to ASTM F963. Keep packaging out of reach of children.