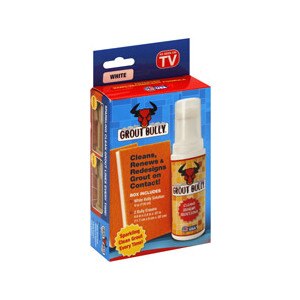 Grout Bully Grout Cleaner, White
Box Includes: White Bully Solution (4 oz). 2 Bully Erasers (4.6 in x 2.4 in x .07 in). Sparkling clean grout every time! Cleans, renews & redesigns grout on contact! As seen on TV. Advanced nano-technology formula. Made in the USA.
Neocar Acrylic 820, Rheolate 278, Nanobyk-360, Glycol Ether DPnB, Bermocoll CST-349, Serdas 2020, Proxel GLX, IPBC-20, Acrysol RM-825,. Colorants: May Contain KX 888-0018 White, B888-9907 Lamp Black, F 888-1045 Red Iron Oxide, I 888-1572 Brown Iron.
Refer to product instruction insert for additional application use & safety information. Application: Shake well. Line up Grout Bully with grout line. While pressing Grout Bully applicator on grout line gently squeeze the applicator allowing Grout Bully formula to flow evenly. Move along the grout line squeezing gently as needed. Wait 2 minutes and wipe off excess from surface with the Bully Eraser. Drying Time: Allow surface to dry for 2 hours before use. Apply second coat as desired and/or needed. Surface should dry completely in 6-12 hours Drying times may vary due to temperature and humidity.
Keep out of reach of children. Harmful if swallowed. If ingested, monitor closely for symptoms and seek medical attention if needed. If ingested, do not induce vomiting. Avoid contact with eyes. If eye contact occurs, flush with water. If contact with skin occurs, wash with soap and water. Rubber gloves should be used when applying Grout bully. Note: This product does not repair and/or replace missing grout. Prior to applying Grout Bully, repair any missing or damaged grout. Grout bully restores the look and luster of original grout. Use in temperatures between 50 and 80 degrees F (10 and 27 degrees C).