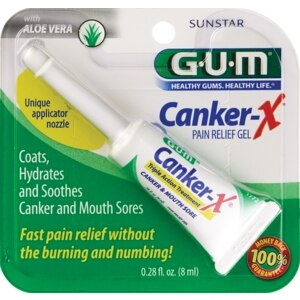 Gum Canker-X Pain Relief Gel
Patented triple action treatment. Fast pain relief. Protective barrier promotes healing. Lasts for hours. No stinging or burning.
Key Ingredients: Polyvinylpyrrolidone, Sodium Hyaluronate, Aloe Vera. Ingredients: Water, Polyvinylpyrrolidone (PVP), Maltodextrin, Propylene Glycol, PEG-40 Hydrogenated Castor Oil, Xanthan Gum, Potassium Sorbate, Sodium Benzoate, Flavour, Disodium Edetate, Benzalkonium Chloride, Saccharin Sodium, Sodium Hyaluronate, Glycyrrhetinic Acid, Aloe Vera Gel, Hydroxyethylcellulose.
Apply gel directly to canker or mouth sore as often as needed. Apply 1 or 2 drops of gel to cover the whole sore. Apply a thin coat of gel with a cotton swab or clean finger. Do not touch the sore with the tongue for at least two minutes after application to allow the protective barrier to form. Avoid eating or drinking for one hour.
Do not use if tamper evident seals have been removed. Keep out of the reach of children. Store at room temperature, out of direct sunlight. Do not refrigerate.