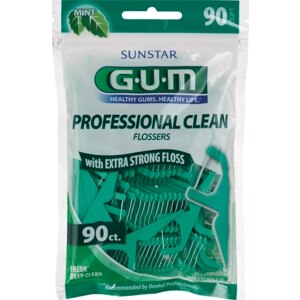 Gum Eez-Thru Flossers Mint
One handed flossing. Lasts the entire flossing. Designed to slide easily without shredding, breaking or sagging. Eez-Grip handle for better control. Recommended by dental professionals. Easy convenient, one-handed flossing. Premium floss slides easily and comfortably between teeth. Engineered not to shred, break or sag through the entire flossing. Eez-Grip handle has a thumb pad and non-slip surface for better control. Long handle and angled neck allow easy access to back teeth. 3-Step System to Healthier Gums: Step 1 - Brush: Brushing alone is not enough because it only removes up to 50% of plaque. Step 2 - Floss: Brushing and flossing only remove up to 70% of plaque. Step 3 - Custom Care: For optimal gum health - brush, floss and consult your dental professional to customize your oral care routine.
Easy to Use: 1. Use gentle back and forth motions to insert floss. 2. Curve floss around each tooth, move up and down against the tooth to clean above and below the gumline. 3. Discard after use.