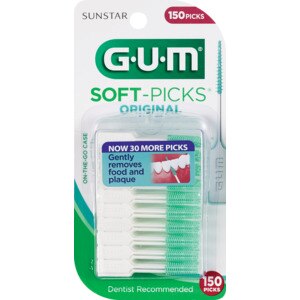 Gum Soft-Picks Value Pack
Storage case included. Clinically proven to remove plaque. Massage gums and dislodges food. Recommended by dental professionals. Flexible rubber bristles slide between teeth. To remove plaque and food particles. Stimulates gums. Fights gingivitis. Tapered design fits between small spaces. Convenient storage case for on-the-go use. Clinical data shows that Soft-Picks are as effective as string floss in removing interdental plaque and reducing gingivitis. Reduction levels by Product Type: String Floss: 16% plaque reduction, 27% gingivitis reduction; Soft-picks: 17% plaque reduction, 32% gingivitis reduction. Clinical Study: 120 subjects assessed for plaque, gingivitis and Eastman Interdental Bleeding Indices (EIBI). Made in Germany.
Use gentle in and out motion to clean between teeth and massage gums. Do not force into tight spaces between teeth.