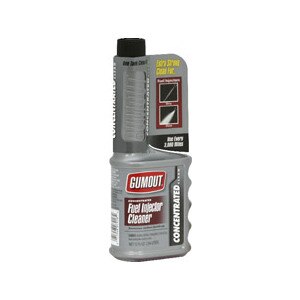 Gumout Concentrated Fuel Injector Cleaner
Cleaning since 1945. Use every 3,000 miles. Treats up to 21 gallons. Cleans and keeps clean. Gumout concentrated fuel injector cleaner. Use of a low quality discount gasoline can reduce your engine''s performance. Your vehicle may experience poor fuel economy, lost horsepower, hesitation, and rough idling. Gumout Concentrated Fuel Injector Cleaner helps to: Clean fuel injectors. Prevent future deposit build up. Restore lost horsepower. This product contains no alcohol and will not harm catalytic converters or oxygen sensors. Can be used with all unleaded, oxygenated and reformulated gasolines. Safe to use with other Gumout fuel additives. Treats up to 21 gallons (80 lt) of gasoline. Made in USA.
Add entire bottle to nearly empty gasoline tank, then fill tank with up to 21 gallons of gasoline. For best results, do not refill tank until near empty.
Harmful or fatal if swallowed. Combustible. Contains petroleum distillates. Prolonged and repeated skin contact may cause drying of skin. Precautionary measures: Keep away from heat, sparks, flame and other ignition sources. Avoid breathing of mists and vapors. Use only in well ventilated areas. Keep container closed. Avoid skin and eye contact. Wash thoroughly after handling. First Aid: If swallowed, do not induce vomiting. Call physician immediately. If inhaled, breathe fresh air. For skin or eye contact, wash thoroughly with water. Keep out of reach of children.