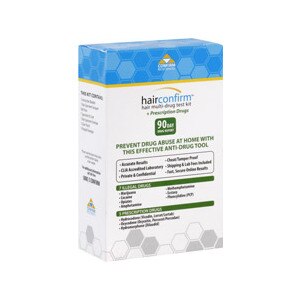 Hair Confirm Hair Follicle Multi-Drug Test Kit + Prescription Drugs
Hair multi-drug test kit + prescription drugs. 90 day drug report. Prevent drug abuse at home with this effective anti-drug tool. Accurate results. CLIA accredited laboratory. Private & confidential. Cheat/tamper proof. Shipping & lab fees included. Fast, secure online results. 7 Illegal Drugs: marijuana; cocaine; opiates; amphetamine; methamphetamine; ecstasy; phencylidine (PCP). 5 Prescription Drugs: hydrocodone (Vicodin, Lorcet/Lortab); Oxycodone (Oxycotin, Percocet/Percodan); hydromorphone (Dilaudid). Advantages of Hair Confirm: Private & Confidential: 100% confidential; no personal information is required. Accurate & Reliable: Our laboratory uses the latest technology with state of the art equipment. Gas Chromatography Mass Spectrometry (GC/MS) is conducted on all positive results. Detailed analysis of drug history: Results indicate a positive or negative result for each drug class. In addition, an assessment of the hair dose response is provided to identify whether the user is a low (occasional), medium (weekend/daily) or high (constant) user excluding marijuana (THC). Accredited Laboratory: Our laboratory is accredited by the Clinical Laboratory Improvement Amendments (CLIA) and all tests are supervised, reviewed and approved by Ph.D. staff scientists. Easy-to-use & convenient: 4 easy steps. Fast Results: Results are available online in approximately 2-3 business days. This kit contains: 1 instruction booklet; 1 hair specimen transport; foil piece; 1 specimen ID card; 1 hair specimen envelope; 1 clear pouch; 1 prepaid envelope. Home drug testing is not only a powerful drug prevention tool for you but also for your teen.
Please read enclosed instructions carefully before taking a hair sample. 4 Easy Steps: 1. Collect hair sample. 2. Prepare sample for mailing. 3. Mail to laboratory using the prepaid shipping label enclosed. 4. Log on to www.hairconfirm.com to obtain your secure online results.