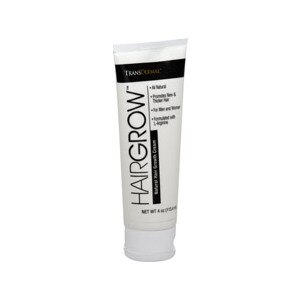 HairGrow Hair Growth Cream
Promotes new & thicker hair. For men and women. Enriched with amino acids. HairGrow is enriched with essential amino acids which may promote growth of thicker, healthier hair.
Water, L-Arginine HCl, Potassium Chloride, Sodium Chloride, Magnesium Chloride Hexahydrate, Mineral Oil Light, Glyceryl Monostearate, Squalane, Cetyl Alcohol, Propylene Glycol Monostearate SE, Wheat Germ Oil, Glyceryl Stearate, Isopropyl Myristate, Stearyl Stearate, Polysorbate 60, Oleic Acid, Vitamin E Acetate, Collagen Protein, Sorbitan Monostearate, Vitamin A & D Mixture, Triethanolamine, Sodium Benzoate, Aloe Vera Extract, BHA.
Apply cream to scalp where hair growth is desired. For thinning hair, apply all over scalp. Apply once dally In the evening. Rub in completely for 3-5 minutes using the tips of your fingers. Results usually become visible within 1-2 months of regular usage. Continue use as needed. HairGrow is completely safe to use over a long period of time.
Avoid over application on existing hair. Shampoo your hair every 24 to 48 hours. Keep scalp clean between each application. If you suspect you are having a reaction to this product discontinue use and call your doctor.