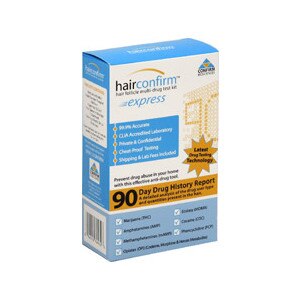 Hairconfirm Express Hair Follicle Multi-Drug Test Kit
90 Day Drug History report. A detailed analysis of the drug user type and quantities present in the hair. Private & Confidential: No personal information is required, instead each test has its own unique Specimen ID Number and Passcode to protect your child's privacy. Accurate & Reliable: Our laboratory uses the latest drug testing technology with state of the art equipment. Gas Chromatography Mass Spectrometry (GC/MS) is conducted on all positive results. Detailed Analysis of Drug History: Results indicate a positive or negative result for each drug class. In addition, an assessment of the hair dose response is provided to identify whether the user is a low (occasional), medium (weekend/daily) or high (constant) user. (Excluding marijuana THC) CLIA Accredited Laboratory: Our laboratory is accredited by the Clinical Laboratory Improvement Amendments (CLIA) and all tests are supervised, reviewed and approved by Ph.D. staff scientists. Our laboratory staff has experience with over 1.5 million hair tests. Easy-To-Use & Convenient: This test is a simple 4-step process that you can do in the privacy of your own home. Cheat-Proof Testing: Shampoos, hair dyes, bleach and other external contaminants will not affect the outcome of this test. Fast Results: Overnight shipping included. Results available in approximately 2 business days (Upon receipt of the sample by the laboratory).
Please read enclosed instructions carefully before taking the hair sample.