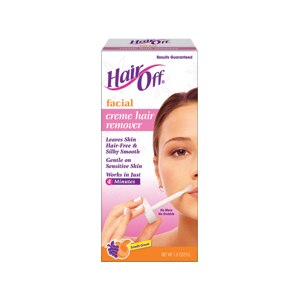 1 Support with 3 Silcoat Strips. 1. Removes hair instantly and easily. 2. Gently exfoliates skin. 3. Regrowth appears slower and less noticeable. Leaves skin hair-free and silky smooth. No pain. No chemicals. No mess. Great for travel and touch-ups. Discover this revolutionary all-natural treatment that makes traditional hair removal products a thing of the past. Say goodbye to unsightly facial hair while eliminating painful tweezing, waxing and the harsh odors of depilatories. Hair Off Facial Buffer gently massages away unwanted hair and exfoliates skin, leaving your face hair-free and silky smooth. Best of all, with our specially formulated Silcoat finish, hair regrowth appears slower and less noticeable. No wonder Hair Off Facial Buffer is the secret of millions of women around the world! Take it anywhere for quick and easy touch-ups between hair removals. Get perfect, smooth skin the easy wav with Hair Off Facial Buffer. Manufactured in Canada.
Before Using: Read enclosed directions carefully and completely. 1. Separate pink facial strip from its protective backing and adhere to purple support. 2. With one hand, pull skin back, keeping it smooth and taut while gently stroking the Hair Off Facial Buffer over skin in a clockwise and counterclockwise motion. 3. After removing all unwanted hair, wash your face with cold water and apply mild cream if necessary. Also good for touch ups between hair removals. Avoid getting the Silcoat Strip wet.
Excessive rubbing may cause abrasions to the skin. Please use carefully. Do not use near eyes. Do not use over rashes, irritations, sunburn, peeling or broken skin. If irritation occurs discontinue use. Keep away from children.