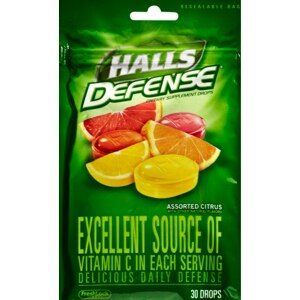 Halls Defense Vitamin C Drops Assorted Citrus
100% Daily value of Vitamin C in each drop. All natural flavors. Halls Defense Vitamin C Supplement Drops help keep you going, because each drop delivers 100% of the Daily Value of Vitamin C. so now, your family can soothe their throats with delicious, fruit-flavored drops while getting the Vitamin C they need. Assorted Citrus Halls Defense Vitamin C Supplement Drops are available in the following natural flavors: Lemon, Sweet Grapefruit, and Orange. Assortment in each package may vary. Resealable.
Sugar, Glucose Syrup, Sodium Ascorbate, Citric Acid, Natural Flavoring, Ascorbic Acid, Color Added and Red 40.