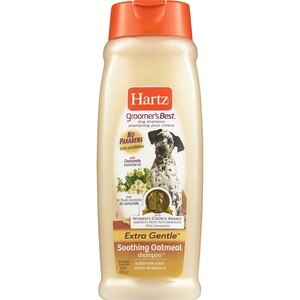 Hartz Groomer's Best Oatmeal Shampoo For Sensitive Skin
Moisturizing for sensitive skin. Soothes irritated skin. Creamy buttermilk fragrance. Some breeds have sensitive skin and require an extra gentle shampoo. Hartz Living Groomer's Best Oatmeal Shampoo's pH-balanced formula gently cleans the coat and soothes dry skin. Added protein conditioners help to reduce tangles in pet's coat and makes brushing easier. Hartz Living Groomer's Best Oatmeal Shampoo is safe and gentle and can be used on all breeds of dogs. Biodegradable. Made in USA.
Before shampooing, brush out the dog's coat. Saturate coat with lukewarm water. Dispense a small amount of shampoo into the palm of your hand. To clean coat, start at dog's head and work back towards the tail. Avoid getting shampoo into the dog's eyes and ears. Rinse coat several times with lukewarm water. Towel dry and gently comb or brush coat. Use only as directed.
Keep shampoo out of the reach of children and pets.