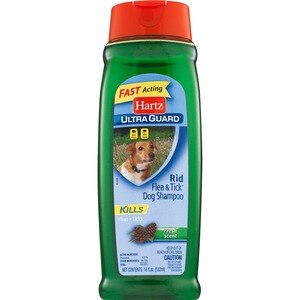 Hartz Rid Flea & Tick Shampoo for Dogs Fresh Scent
Active Ingredient: Pyrethrins (0.045%), Piperonyl Butoxide, Technical (0.089%) (Equivalent to 0.064% [Butylcarbityl]) [6-Propylpiperonyl] Ether and 0.016% Related Compounds), N-Octyl Bicycloheptene Dicarboximide (0.149%). Other Ingredients: (99.717%).
It is a violation of Federal law to use this product in a manner inconsistent with its labeling. Read entire label before each use. Use only on dogs. Do not use on puppies under 12 weeks of age. 1. Wet dog's coat thoroughly with water. 2. Rub shampoo into coat, starting with head. Work backward until coat is completely covered with foamy lather. 3. Let lather stay on 5 minutes, then rinse and towel dry. Keep away from eyes. 4. Repeat weekly (if necessary). 5. Consult a veterinarian before using this product on debilitated, aged, pregnant, nursing or medicated animals. Sensitivity may occur after using any pesticide product for pets. If signs of sensitivity occur, bathe your pet with mild soap and rinse with large amounts of water. If signs continue, consult a veterinarian immediately. Storage and Disposal: Disposal - If Empty: Do not reuse this container. Place in trash or offer for recycling if available. If Partly Filled: Call your solid waste agency for disposal instructions. Never place unused product down any indoor or outdoor drain.
Keep out of reach children. Precautionary Statements: Environmental Hazards: Do not apply directly to water.