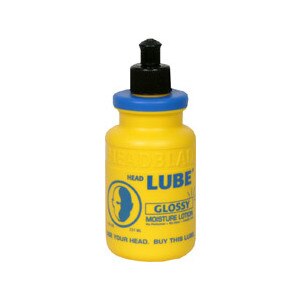 Headlube Glossy Moisture Lotion
No perfumes, no dyes, cruelty - free. Use your head. Buy this lube. HeadLube moisture lotion is free of dyes and perfumes. This is a moisturizer; not a cologne. We also mad HeadLube non - comedogenic so it won't clog your pores. Use after shaving or any time your skin or wit is too dry. HeadLube Glossy gives a nice shiny finish.
Water, Safflower (Carthamus Tinctorius) Oil, Hydrogenated Soy Glyceride, glycerin, Emulsifying Wax, Octyl Stearate, Butylene Glycol, Lecithin, Hydrogenated Castor Oil, Hydrogenated Polysorbatene, Shea Butter (Butyrospermum Parkii), Tocopheryl Acetate, Tea Tree (Melaleuca Alternifolia) Oil, Aloe Barbadensis Gel, Xanthan Gel, Phenoxyethanol, Methylparaben, Propylparaben, Ethylparaben, Butylparaben.