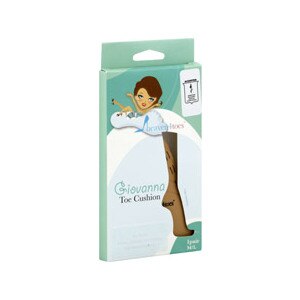 Heaven4Toes Toe Cushion For Women M/L
American Podiatric Medical Association accepted. Feels heavenly! Designed by women for women, Heaven4Toes has revolutionized foot protection by offering the first soft cushion insert for toes. A long day on your feet can be excruciating on your toes. Giovanna feels heavenly as it guards your toes from pain by using a cozy pillow of protection. The easy to use toe cushion eliminates painful irritations and skin abrasions caused by friction so you can strut your stuff in any pair of shoes. Not only will your toes feel better, they'll look better by avoiding the bumps and bruises associated with chafing. Simply trim-to-fit and adhere to the inside top of your favorite shoe, the breathable fabric is durable enough to go the distance and will never slip out of place due to moisture. And with Giovanna's virtually invisible design, you can add comfort without giving up style. Say goodbye to painful toes and step into comfort for Heaven4Toes. Made in USA.
1. Trim pad to size. 2. Remove adhesive tape liner. 3. Apply to inside front top of shoe. 4. Now step into heaven.