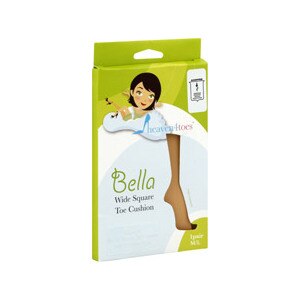 Heaven4Toes Wide Square Toe Cushion For Women M/L
American Podiatric Medical Association accepted. Feels heavenly! The first-ever soft cushion insert specifically designed for toes! Now you can wear your fashionable shoes all day long - pain free! Heaven4Toes is a revolution in comfort for your feet that protects your toes from painful skin abrasions and eliminates irritation and discomfort caused by friction. Heaven4Toes is heavenly bliss for sensitive toes. Perfect for both men and women, these easy to use self-adhesive cushions fit neatly on the inside top of any shoes to provide relief for your toes. The trim-to-fit design breathes with your skin and won't slide out of place from perspiration. Heaven4Toes Toe Cushions are made of durable polyurethane for long-lasting comfort and are virtually invisible in any shoes. Wearing your favorite shoes can be fun again and doesn't have to be painful. Make every step a walk in the clouds and enjoy your favorite activities in divine comfort. Made in USA.
1. Trim pad to size. 2. Remove adhesive tape liner. 3. Apply to inside front top of shoe. 4. Now step into heaven.