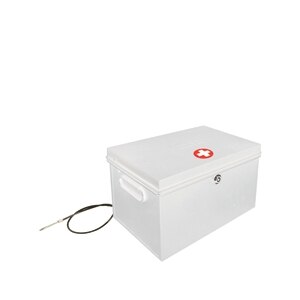 Helix Drugs Security Chest
You May Also Like
Size: 1 CT

$10.49

($10.49 / each)
Keep prescription drugs secure.
For personal family use or commercial/ institutional use. Ideal for home, small offices, medical facilities or school nurse offices.
Secure radial key lock allows controlled access to keep prescription drugs out of reach of children and others for whom drugs are not prescribed.
Easily portable with two handles.
Can be mounted permanently through four screw holes in base (mounting hardware included), or use a security cable to tether in fixed position (cable not included).
When locked this product is intended to provide a deterrent for gaining access to the stored items. It is not intended to provide an absolute fail-safe to entry and is not a substitute for proper adult supervision.