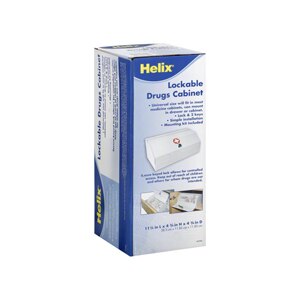 Helix Prescription Drug Security Cabinet
11-1/4 inch L x 4-3/4 inch H x 4-3/4 inch D. Universal size will fit in most medicine cabinets, can mount in drawer or cabinet. Lock & 2 keys. Simple installation. Mounting kit included. Secure keyed lock allows for controlled access. Item intended for home use only to store prescription & over the counter drugs. When locked the cabinet is designed to deter access by those for whom medications have not been purchased or prescribed. Not an absolute foil-safe protection against unauthorized access and not a substitute for regular vigilance by responsible adults. Made in China.
Installation: 1. Select suitable discrete location inside a medicine cabinet, bathroom vanity or offer closet out of sight. 2. Easily mounted with door in either drop down or lift up mode. 3. Using provided screws, securely fix cabinet either to wall or floor position. Prescription & over the counter drugs always should be stored out of sight and away from easy availability to children, the elderly and those whose judgment may be impaired. Dispose of unwanted & unused drugs responsibly and without damage to the environment - your local pharmacy can advise!
Keep out of reach of children and others for whom drugs are not intended.