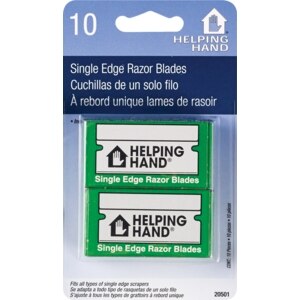 Helping Hand - 10 Single Edge Razor Blades, For Scraper
No. 20501. Industrial quality. Fits all types of single edge scrapers. Warranty.
Note: Use caution when replacing or using these blades. They are indeed sharp as a razor. 1. Take the paper sleeve off the blade. 2. Depress the button and slide forward until it locks. 3. If removing a used blade, use a flat surface or instrument (screwdriver, plier, kitchen tool handle) to start pushing the blade out, from right to left. Carefully remove blade with plier or fingers. 4. Insert new blade in from left to right, making sure it's in the middle of the gripper. 5. After use, to store, depress the button ad slide rearward so the blade is concealed in the handle. Never store with blades exposed.
Use Caution: Wear safety goggles when working with tools.