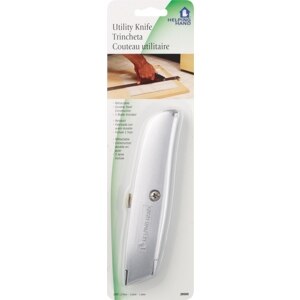 Helping Hand - Utility Knife
No. 20505. Retractable. Durable steel construction. 1 Blade included. Warranted.
The Helping Hand Utility Knife and Box Cutter is easy to use. The blade is shielded within from accidental contact. When you want to use it, depress the ridged handle with your thumb and slowly slide it forward, until the blade is at the proper position for your work. There are nine different positions available from bare point exposure to nearly 3/4-inch exposure. Be careful to retract the blade into the handle when you're finished and before storing. This knife is very sharp. It should be used carefully and kept out of the reach of children.
Use Caution: Wear safety goggles when working with tools.