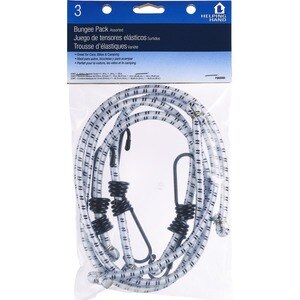 Helping Hand Assorted Bungee Pack
Great for cars, bikes & camping. Contains 3 - 5/16 inch diameter cords, 1 - 24 inch, 1 - 30 inch. Made in China.
Stretch bungee carefully, maximum stretch not to exceed 50% of unstretched length. Over-stretching can cause hook failure resulting in sudden release that can cause severe injury to body parts, particularly eyes. Do not use worn or frayed bungees. Always use common sense.