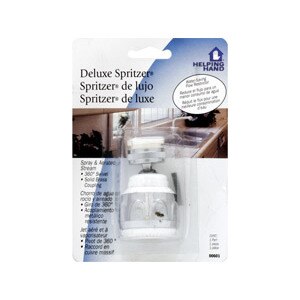 Helping Hand Deluxe Spritzer
The Faucet-Queen Deluxe Spritzer is designed to convert any faucet that has a removable strainer or aerator to a spray by simply pulling down. Push up and you have a smooth flowing aerated stream. Its uniquely designed 360 swivel allows you to aim your spray where you want.
To attach: If your faucet spout has an outside thread, the plastic adapter piece is required. If your faucet spout has an inside thread, screw the plastic adapter piece into the faucet spout first, and then screw the spray unit onto the adapter piece. When threading onto the faucet spout do not use pliers or any other tool. Use only the two forefingers and two thumbs of both hands to grip and tighten. A cloth used between the sprayer and the fingers can be helpful.