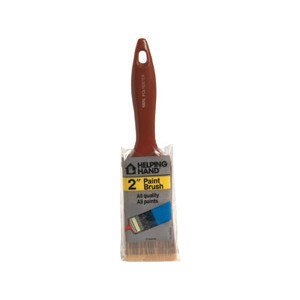 Helping Hand Paint Brush 2 Inch
No. 33320. 100% Polyester. All quality. All paints.
Painting Tips: Fan brush with fingers to remove loose bristles. Fill all cracks with caulking compound. Dust off all dirt. Use a wire brush to scale off old exterior pain. When painting furniture with knobs, remove them. Use masking paint around window panes. How to Clean: After painting with latex paint, thoroughly was brush with soap and warm water. For oil base paints, enamel, vanish, shellac or stain, clean in mineral spirits, paint thinner or a brush cleaner.