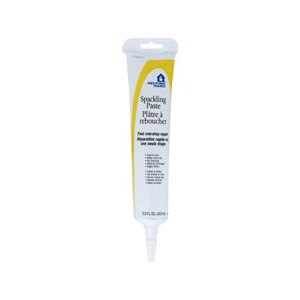 Helping Hand Spackling Paste
Fast one step repair. Easy to use. Water clean-up. No cracking. Minimal shrinkage. Bright white. Faucet Queen's Spackling Paste is a general purpose, water-based compound for filling cracks, dents, nail holes and other small holes in plaster walls, drywall, ceilings and woodwork. This pre-mixed formula may be smoothed with a putty knife and then sanded and painted over when dry. It cleans up easily with water. Made in USA.
Calcium Carbonate (1317-65-3), Aqueous Polymer Emulsion (Mixture), Ethylene Glycol (107-21-1), Glycol Ether (107-98-2), Methyl Alcohol (67-56-1).
Surface Preparation: Surface must be clean, dry and free of dirt, dust, mildew and loose paint and plaster. Apply only when paste and surface temperatures are above 50 degrees F (10 degrees C). New or unpainted porous surfaces should be primed and allowed to dry prior to patching. 1. Remove cap and clip off tip of spout to desired size. 2. Squeeze spackling paste firmly into crack or hole and smooth with a putty knife. Deep voids may require a second application. 3. Let area dry 2 hours before sanding or painting (longer in humid conditions). 4. Replace cap and save for future use. Clean up tools and hand with soap and water.
May irritate eyes. Avoid eye contact. Avoid prolonged inhalation of dust should sanding be necessary. First Aid: In case of eye contact, flush eyes with plenty of water for at least 10 minutes. Consult a physician immediately. Keep out of reach of children. Not for internal consumption. Keep from freezing.