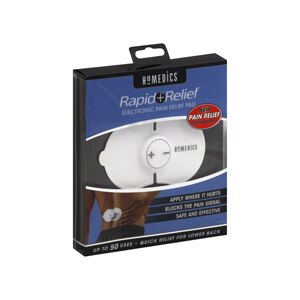 HoMedics Electronic Rapid Relief Pad for Lower Back
Model No. HW-P105. Pain relief technology. Apply where it hurts. Blocks the pain signal. Safe and effective. Up to 50 uses. Quick relief for lower back. Provides immediate targeted relief for lower back pain. Apply directly to your pain point for fast, targeted relief. Safe & effective. Drug-free. Latex-free. Up to 50 uses. Adjustable intensity. Odor-free. Easy-to-use. Clinically proven. Includes: 1 device, 1 set self-adhesive gel pads, 1 CR2032 lithium battery, 1 carry case. www.rapidreliefpad.com. For more information regarding our product line in the USA, please visit: www.homedic.com. 1 year limited warranty. Made in Taiwan.
Long-term stimulation and use at the same site may cause skin discomfort. Consult a dermatologist if skin discomfort persists. Do not use the device over twice a day on the same place of your lower back. Not for use by or on persons under the age of 18. Do not use if you, have pacemaker, metal implant, insulin pump or any other implant in the body; have cardiac arrhythmia or disorder of the heart's impulse and conduction system; have seizure disorder, ie epilepsy; are pregnant or menstruating; have cancer; are suffering from a metabolic arthritis; have arm or leg skin conditions of: acutely or chronically diseased (injured or irritated) skin, hypersensitive skin, scars or healing wounds, rashes or inflamed skin, bruises or swelling, hemorrhage following acute trauma or fracture. This unit should never be used to relieve undiagnosed pain. Before treating any symptoms of pain, you should consult your doctor.