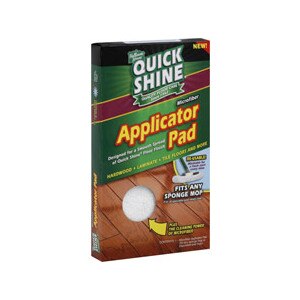 Holloway House Quick Shine Microfiber Applicator Pad
Fits any sponge mop. Fits disposable-pad mops too! Plus, the cleaning power of microfiber. Contents: 1 - Microfiber Applicator Pad (fits any sponge mop or disposable-pad mop). Scoops, lifts and traps. Quality floor care since 1962. Designed for a smooth spread of Quick Shine Floor Finish. Hardwood. Laminate. Tile Floors and more. Re-usable! Washable for a fresh start every time. Eco Friendly: reuse and reduce trash. Use damp or dry. Design for the environment - US EPA recognized for safer chemistry. Pad made in China.
Simply pull the applicator pad over any household sponge mop. It even works with the new disposable-pad mops! Pad is re-usable for a fresh start every time. Simply launder, rinse, air dry and re-use. Do not put in dryer. Do not use fabric softener. Note: Maintain shine with water-dampened microfiber pad. For superior cleaning results, try floor cleaner. Refresh shine as needed with a new coat of floor finish.