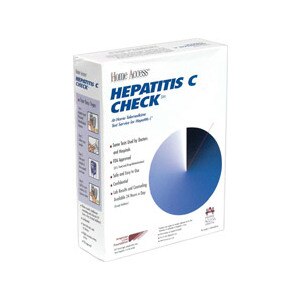 Home Access Hepatitis C Check
At-home Telemedicine Test Service for Hepatitis C. Contents: Instructions, Answers to Frequently Asked Questions About Hepatitis C, Blood Sample Card with a Personal Identification Number (PIN), Alcohol Pad, Gauze Pad, 2 Safety Lancets, Adhesive Bandage, Sample Return Pouch, Prepaid U.S. Mail Envelope. For in-vitro diagnostic use. Same tests used by doctors and hospitals. FDA approved. Safe and easy to use. What is Hepatitis C? Hepatitis C is a liver disease caused by the hepatitis C virus. If left undetected, hepatitis C can lead to serious medical complications. Even while a person feels healthy, the virus may be causing permanent liver damage leading to scarring (cirrhosis), liver cancer, liver failure or death. How are people exposed to Hepatitis C virus? Exposure to hepatitis C virus occurs when a person comes into direct contact with the infected blood of another person. Can Hepatitis C be treated? Yes. Detection of hepatitis C before serious damage has occurred, can lead to appropriate treatment and management. Who should test? Over 4 million people in the United States are infected. Most are unaware they have the hepatitis C virus. Experts agree it is important to be tested if you may have been exposed to the hepatitis C virus through blood transfusion prior to July 1992, a contaminated needle, or other possible exposure to infected blood or other bodily fluids. Some experts suggest testing if you have had multiple sex partners in your lifetime, or have had any sexually transmitted disease. Why use Home Access? The Home Access Hepatitis C Check provides you with the knowledge and assistance to take control of your personal health and well being. The service is convenient and private. It is highly accurate and easy to use. Best of all, Home Access Health uses new at-home telemedicine technology to provide around-the-clock access to healthcare counselors who can answer your questions and ease your mind. Accurate: The Home Access Hepatitis C Check has been shown to be a highly accurate testing service in U.S. multi-center clinical studies. Convenient: Results, healthcare counseling and referrals available 24 hours a day (except holidays). Confidential. FDA approved.
Step 1: Register your personal identification number. Step 2: Collect your sample. Step 3: Ship your sample in the prepaid envelope. Step 4: Call for your result in 10 business days. Keep contents dry.