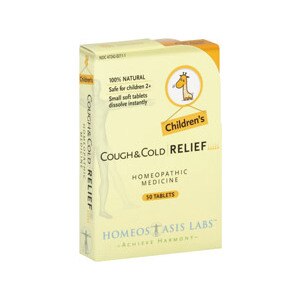 Homeostasis Labs Children's Cough & Cold Relief Homeopathic Medicine
Homeopathic medicine. Achieve harmony. 100% natural. Safe for children 2+. Small soft tablets dissolve instantly. Carton made with wind power. HPUS indicates that the ingredient is officially included in the Homeopathic Pharmacopeia of the United States and the manufacturer has followed all guidelines set forth. Statement of Identity: Children's antitussive. Made in USA.
Active Ingredients: Arsenicum Album (6C), HPUS; Ferrum Phosphoricum (6C), HPUS; Pulsatilla (6C), HPUS; Silicea (6C), HPUS; Drosera Rotundifolia (6C), HPUS; Spongia Tosta (6C), HPUS; Sambucus Nigra (6C), HPUS. Inactive Ingredients: Lactose, Magnesium Stearate (Vegetable Source).
Give child one tablet and allow to chew or dissolve in the mouth. If you prefer, tablets may be dissolved in a teaspoon of water and then given to the child. Repeat every 4 hours as needed. Safe to take with all other medications. Store at 68-77 degrees F (20-25 degrees C) and keep out of direct sunlight. Avoid humid or damp storage conditions. Close well when not in use.
Do not take this product for persistent or chronic cough such as occurs with asthma or emphysema. Do not use if outer package seal is broken. Stop use and consult a doctor if symptoms do not improve within 3 days, worsen or are accompanied by a persistent fever over 101 degrees F. Keep out of reach of children.