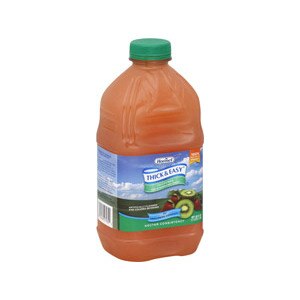 Hormel Thick & Easy Kiwi Strawberry Nectar Consistency
For swallowing difficulty. 100% daily value for vitamin C. Artificially flavored and colored beverage. Nectar consistency. Bridging the gap between function and flavor. Thick & Easy Thickened Beverages meet the special needs of individuals with swallowing difficulties. Our selection of thickened beverages answers your need for ready-to-serve, reliably thickened beverages. The nectar consistency helps promote ease of swallowing. Every 4 oz serving of Thick & Easy Thickened Beverages provides the full recommended daily requirement for vitamin C. Ensure proper hydration with great tasting flavor varieties that are sure to please everyone. Contains less than 1% juice.
Water, High Fructose Corn Syrup, Mobbed Food Starch, Kiwi/Strawberry Drink Base (Natural and Artificial Flavors, Water, Citric Acid, Potassium Citrate, Modified Food Starch, Cottonseed Oil, Glycerol Ester of Wood Rosin, Caramel Color, Potassium Sorbate [Preservative], Brominated Vegetable Oil, Red, Concentrated Kiwi Juice, Concentrated Strawberry Juice, Yellows), Ascorbic Acid.
Simply chill, pour and enjoy. Storage & Handling: Store in cool, dry place. When ready to serve, chill, break seal, retighten cap and shake well. Refrigerate unused portion. Discard if not used within 10 days of opening.