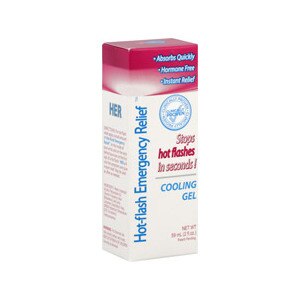 Hot-Flash Emergency Relief Cooling Gel for Her
You May Also Like
Size: 12 EA
40% off Clearance
$2.99
$4.99

Out of Stock
Absorbs quickly. Hormone free. Instant relief. Clinically proven. Stops hot flashes in seconds. Relief is here! Hot-flash Emergency Relief is a specially formulated cooling gel designed to stop a hot flash from becoming a full blown flush in under a minute! When used properly, HER Cooling Gel sends an immediate message to the brain that cooling has taken place - and the flash stops. HER was created by a woman, for women, to quickly and effectively relieve hot flash symptoms. HER's unique patent pending, all natural formula is hormone free, absorbs quickly and offers instant cooling relief from the physical effects of hot flashes. Discreet and portable. You'll never want to be without it! I suffered from menopausal hot flashes for years; herbal supplements and hormone replacement therapy didn't help. My desire was to create a topical gel to cool me off and I did it with Hot-flash Emergency Relief! I am happy to offer this product to everyone who suffers from hot flashes, even men and women having chemotherapy treatments. HER works wonders and is gentle enough to use as often as needed. So, try it and live a cooler life! Made in USA.
Water, Isopropyl Alcohol, Polysorbate 20, Glycerin, Fragrance, Aloe Barbadensis Leaf Juice, Carbomer, Diazolidinyl Urea, DMDM Hydantoin, Tetrasodium EDTA, Tocopherol, Triethanolamine.
For hot flash relief apply a small amount of Hot-flash Emergency Relief on the inside of your wrists and on the neck behind your ears at the first sign of a hot flash! HER will cool the symptoms and give instant relief. May be used as often as needed.
For external use only. Avoid contact with eyes. Keep out of reach of children. Use only as directed.